The JAS | EMEA Region includes:
Czech Republic
Luxembourg
Poland
Russia
Slovenia
Spain
Saudi Arabia
JAS Forwarding South Africa : A Gateway to Space
June 1, 2016
JAS in Johannesburg was recently awarded the transportation and logistics contract for the Gateway to Space exhibition at the Johannesburg Convention Centre in South Africa.
Quick facts about the exhibition
It was created with input from NASA and the US Space & Rocket Centre, as well as archeologists and geologists.
It changes cities around the world every 2 to 3 months
Contains 60 space artifacts.
It covers about 3.400 m² of floor space.
Space suits are transported in atmosphere-controlled boxes.
Some 40 short videos explaining the various exhibits are included.
It boasts an interactive space area.
Some of the articles you will see at the exhibition
Sputnik 1: The first space satellite
Lunar rover model: The battery-operated space exploration vehicle that can move around and transport people on the surface of the moon.
Sokol SK-1 Space suit: The space suit designed for Yuri Gagarin for the first manned space launch in 1961.
A Space Shuttle cockpit: This flight deck, with controls for life support, landing and steering, was the heart of the Space Shuttle.
Space food: Most space food simply requires hot water to prepare, see what they eat in space!
Orion: It's destined to be the safest, most advanced spacecraft built and earmarked to be suitable to take humans to a variety of destinations.
Moon rock: Between 1969 and 1972 six Apollo missions brought back 382 kilograms of moon rock. Come and touch one of these rocks.
Vostok rocket: The Soviet rocket that launched the first human in space.
Scope of work handled by JAS South Africa
Timing was critical as the exhibition started on the 1st June 2016, and time was not on our side.
20 x 40'cntrs were shipped ex Amsterdam to Johannesburg under a Carnet ATA. These containers had to be delivered in specific sequential order at specific times to facilitate the off-loading and unpacking on site.
Due to the fragility of the material, the Contractor Media 24 had to fly in a professional team to co-ordinate and facilitate the unpacking and assembling of the artifacts.
The exhibition will run for 2 months and then has to be re-exported to a country still to be determined in Europe. JAS will be appointed for the export.
The delivery fortunately went without any incidents and in true JAS fashion, we applied a personal touch to ensure service excellence.
Congratulations to the job well done by the JAS South Africa team, our Gateway to Space!


JAS | WORLDWIDE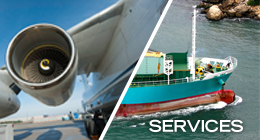 JAS CORE SERVICES
JAS INDUSTRY SUPPORT
Live Animal Transport Services