The Americas Region Includes:

Colombia

Costa Rica

Ecuador

El Salvador

Guatemala

Honduras

Nicaragua

Venezuela
Get the News You Can Use
JAS Worldwide is dedicated to offering the highest level of assistance on various levels of customs compliance laws and we accomplish this with our own import/export compliance division at our JAS Worldwide Management, Inc located at our Americas regional headquarters in Atlanta, GA. This divison keeps our clients advised of trade updates, regulatory proposals, and other changes. We offer a wide variety of compliance services, many free to existing JAS Customers and strive to always have the most up-to-date information available in order to assure your business has the right information at the right time.
Get the latest Compliance News and updates from the Compliance Blog!
JAS USA Celebrates its 20th!
Festive Gala Held in Atlanta to Celebrate
JAS USA recently celebrated 20 years doing business as JAS Forwarding (USA), Inc., with a festive gala at Fernbank Museum of Natural History in Atlanta. Adrian Emmenegger, President and CEO of JAS USA thanked the Chairman, Management Advisory Board, and colleagues from China, Italy, UK, Germany, Brazil, the Middle East, and Israel for having traveled to Atlanta for the celebration.
Emmenegger recalled "during the past 20 years, JAS USA corporate offices have moved at least four times to larger offices as the Company grew from fewer than 100, to almost 600 employees.
He believes "it is important to reflect on our past to remember what made us successful and not to forget about this when thinking about our future. There were good reasons why our clients decided to work with us and we should never forget that. The main ingredients for success are still the same - to focus on the needs of our clients and go the extra mile to service them. It is important to keep our eyes on the ever changing needs of our clients."
Mr. Emmenegger thanked all employees in 25 branch offices for their hard work and support in making JAS USA successful. "It is only through their tireless efforts and willingness to go above and beyond expectations that we are able to grow our market share in this competitive environment."
"Our company slogan says, 'People Make The Difference', and I believe in this very much. As only the 3rd President of JAS USA, and having spent one-third of those 20 years in this position, it should also be pointed out that both prior CEOs are here with us tonight."
Mr. Emmenegger thanked all attendees, customers, corporate executives, branch and regional managers, and guests from Worldwide management for their on-going support in continuing to write the "Story of JAS USA" into the future.
JAS Reaffirms its Commitment to Brazil
JAS Brazil CEO Speaks to Cargo News
April 14, 2016
Vision and opportunity, planning and new business contribute to the growth of JAS in the world and also in Brazil.
The year of 2015 brought positive results for JAS Worldwide, which has been growing in the markets it operates in and is now one of the leading Freight Forwarders in the world. Three years ago the company revised its global strategic plan for the next five years in order to strengthen its main traffic from the USA, Italy, Germany, China, and LATAM (Latin America) securely structuring its products and services, adapting the company's structure for effective increases in market shares in these locations.
In Brazil, the fifth main JAS office in the world, the focus of JAS Brazil's CEO, Elder Apolinario, was to strengthen its commercial department, which doubled in size and gained muscle throughout the year of 2015, especially in the southeast and southern branches of the country.
"Our headquarters in the USA (Atlanta GA) invests in Brazil with the long-term view and understanding that in this moment the focus is on our economy. Given the importance of JAS BRAZIL to the entire JAS Organization, and maintaining the firm belief that the current (economic) situation is temporary. JAS Worldwide reaffirms this positive outlook and commitment to the country of Brazil, with its customers and its internal public. For 2016 JAS plans to continue growing in Brazil, either organically or through strategic acquisitions of regional companies, well positioned in our market, "said Elder Apolinario.
Imports still account for the largest volume of business for the company, but high dollar exports have become a fundamental part of the JAS results that have been growing steadily, especially in the South, with the performance and targeted investments to capture business (commodities in general) where the company has achieved significant results.
For this reason, JAS has been investing in the industry for the last 2 years, assisting its clients with the development and increase of their exports in key markets for the company. The result of this work is already being realized with a growth of + 30% in the volume of maritime exports which moved more than 11,000 TEUs in 2015.
With the focus in the integrated logistics services, new solutions are constantly in the aggregate portfolio of the company's products, making life easier for its customers. To this end JAS is implementing in Brazil, the world system (Cargowise) which will allow its online operation in "one single file" concept, optimizing time and resources, to the dedicated coordination of shipments, allowing greater focus on business for their customers.
JAS BRAZIL is also an OTM (Operator Multimodal Transport) running DOOR TO DOOR operations, providing included customs clearance on the structure for its operations and soon, next month, will offer the local market a road transport solution internationally, with a primary focus on Mercosur countries, expanding the range of services to market. A professional investment that creates opportunities is what JAS believes will continue to strengthen and what requires a commitment to its customers and employees, by investing primarily in internal training for its resources, aiming to retain their talents, as well as attracting professionals who seek professional growth.
For the CEO, human capital is critical to ensure and offer advanced services to its clients, mainly as an integrated logistics operator where the advice of a qualified professional is the difference that the market demands: "Our professionals contribute to the strategic planning of our customers, and therefore, for this they must understand not only our business but especially about your business, the business of our customers, diagnosing possible obstacles, identifying opportunities and offering creative and reliable solutions for our customers' business to increase - our business is to make our customers grow and prosper "said Elder Apolinario.
Also according to Elder "Our big market differentiator is our ability to understand and adapt to the needs of our customers and be available to them, in any situation, managing to deliver effectively and quickly the services which have been entrusted to us, the loyalty of the existing partnership with the companies we serve. "Source: Writing Cargo News
Originally written by Redacao CN of the Comeercio Exterio, Logistica, Negocios, translated to english by Jessica Moore of JAS Forwarding Worldwide.
You can read the original article, in portuguese, here


JAS | WORLDWIDE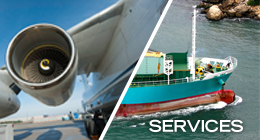 JAS CORE SERVICES
JAS INDUSTRY SUPPORT
Live Animal Transport Services